..- then love is the name
2022, 7' - 16mm & Hi8 film, silent.

A reflection on education and an ode to the bonds that are formed by students at, (and in spite of,) the institution they are studying within. By weaving together footage from the 2021 anti-racist occupation of the Slade School of Fine Art with scenes from the install of the art school's class of 2020 degree show, the academy emerges as a site of frustration as much as of achievement. Running over both events - , from the final touches of varnish being put on a painting to protest banners being unfurled across the building, - is text from former Slade student and tutor Christopher Kirubi's poem '… - then love is the name' from which Kohandel's film takes its name. (Open City Docs)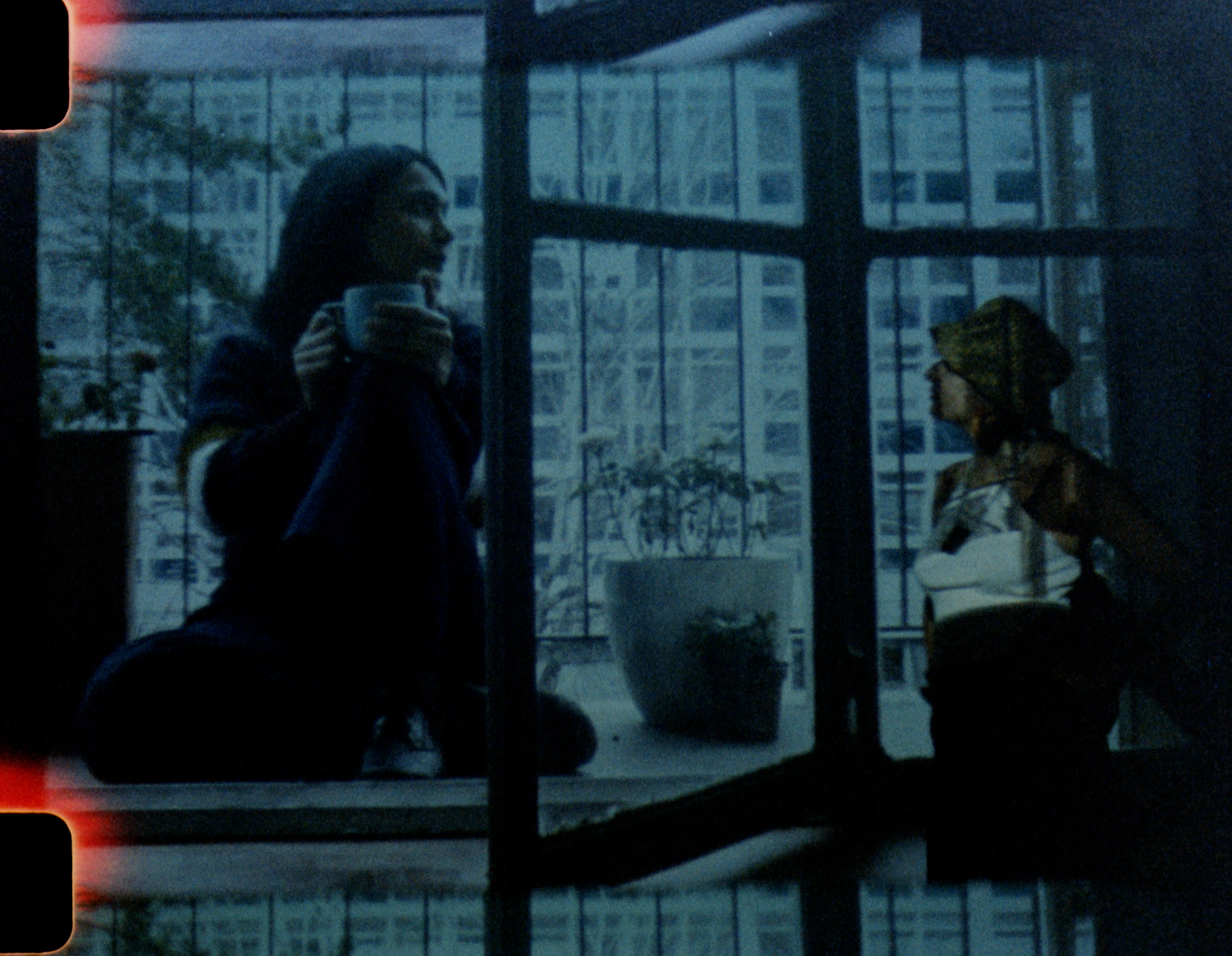 Upcoming screening:
12th Sept 2022,
Open City Documentary Festival
'Sab Changa Si + ...- then love is the name + QA with Teresa A Braggs & Shai Heredia ' at
Genesis Cinema
, London.


The Sparrow is Free
2021, 14' - Hi8 film

Through a window into the life of the filmmaker's grandmother, Kohandel's short interview-film explores gender roles in early 20th-century Iran. As a young girl, marriage to her older cousin leads to years of control and frustration. Rebelling against her husband, she eventually relocates to France with her sons, building a new life. As she voices her own story, the film weaves her experiences together into a broader narrative of self-determination. She carves out her independence in Paris and finds comfort in the everyday. A simple kind of happiness follows, the sparrow is free.

از مصاحبه فیلمساز نیکی کهندل با مادربزرگ خود، شرایط زنان ایرانی در اوائل قرن بیستم را میتوان لمس کرد. در هفده سالگی ، این دختر نوجوان مجبور به ازدواج با پسر عمه خود می‌شود. همسری که سالیان سال او را زیر سلطه خود قرار میدهد و سرانجام ، این پیوند را به ناکامی و طلاق می کشاند. در نهایت ، برای فرار از این موقعیت و به امید ساختن زندگی جدید ، به همراه دو فرزندش ، تصمیم مهاجرت به فرانسه را می‌گیرد. با شنیدن داستانهای گوناگونش ، پی می بریم که چگونه می‌توان با تصمیم و انتخابی تازه ، فصلی جدید در زندگی خود را آغاز کنیم. در پاریس ، آن .خوشبختی ساده ای که همواره در جستجویش بود را پیدا می کنند. گنجشک آزاد است


Past screenings:
29th - 30th June 2022, DOCUMENTARIST İstanbul Belgesel Günleri- Istanbul Doc Days, Institut Français.
18th - 30 th June 2022, GODSPEED: 18 short films by a new generation of diary filmmakersA gallery group show in collaboration with
Millennium Film Workshop,
curated by Nick Ramsay and Saint Piñero.
22nd Jan 2022, Root/25 Micro-film screening for
Restless Beings
.
21st Jan 2022, London Short Film Festival, ICA.
'New Shorts Documentary: The Promise of Hapiness?'
curated by Miranda Mungai.
18th Nov 2021, Girls in Film at House of Vans, London 'It's the family you choose', curated by Raheela Suleman.
5th Oct 2021, Conch art collective presents '3 films by Niki Kohandel' at SOAS University, London
Jul 2021, streaming on shashamovies, 'CLOSE CUTS: 23 films around local cultural traditions'
Just Another Year
2020, 6'10 - Hi8 film

This home video documents how a mother and a daughter celebrated Norooz at home. As they aren't surrounded by an Iranian community, some of the rituals such as jumping over fire have been adapted to living in a flat. The film looks at the small but important domestic gestures that constitute the setting of the Haft-Sin table, embracing this poetical approach to life which is performed again every spring.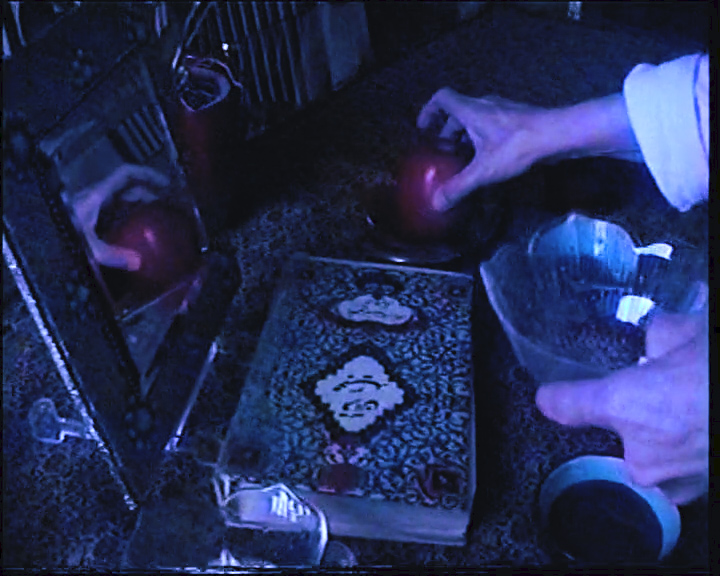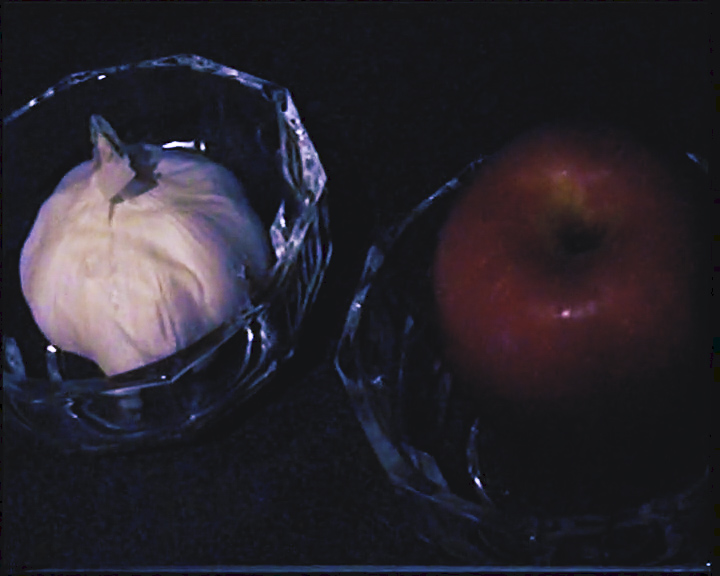 Past screenings:
15-22nd March 2022
passerby magazine & Habibi Collective
Norooz celebration
5th Nov 2021, T A P E Collective
'Roots, Seeds, Flowers, Fruit'
at Aesthetica Short Film Festival, York, UK.
8th - 22nd March 2021,
Habibi Collective and MoMA present
'A new wave of women moving image-artists from South-West Asia and North-Africa'
Museum of Modern Art, New York


Albalo
2021, 2'20 - hand-painted & etched 16mm film

What happened when a doll swallowed a cherry pit...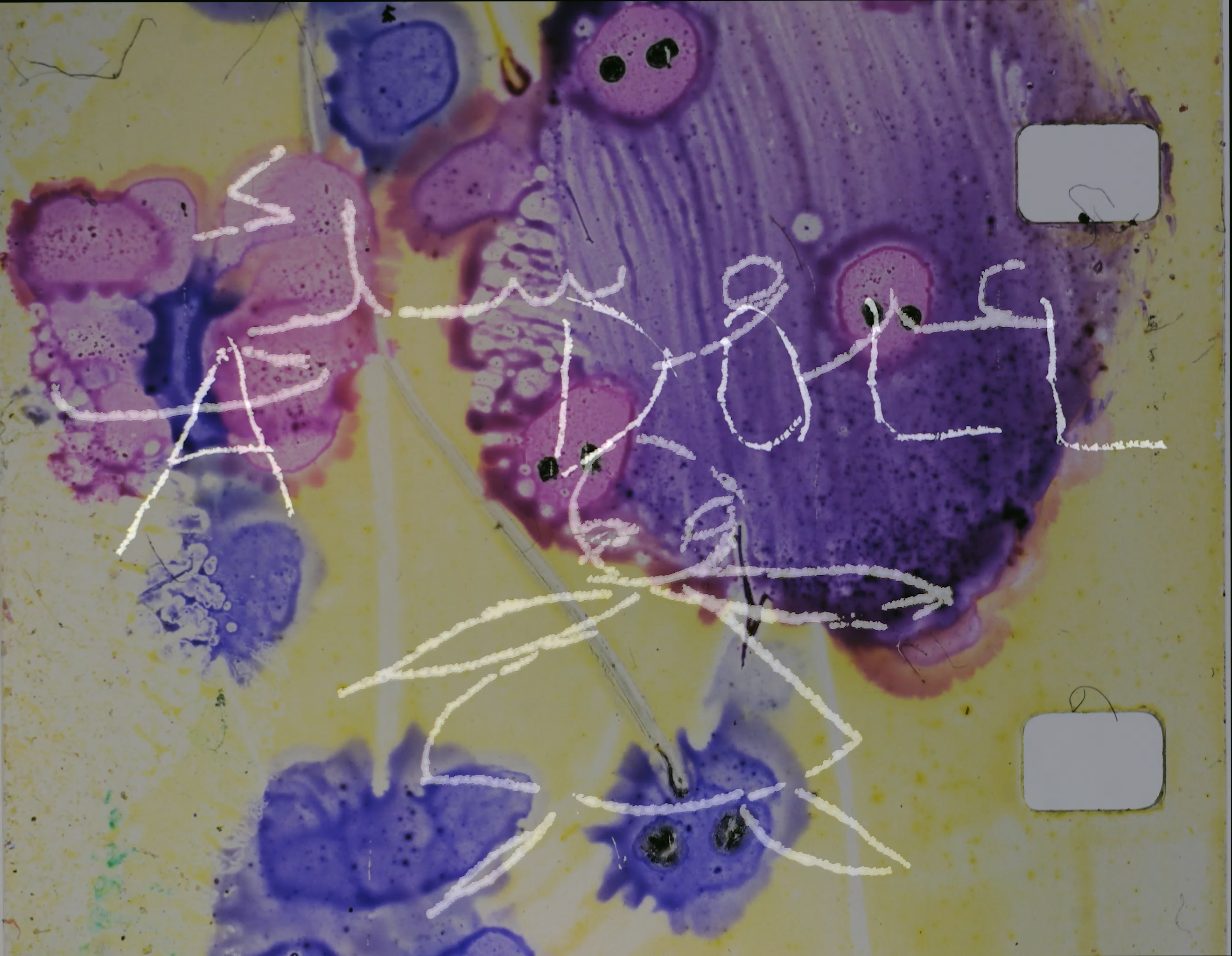 Past screenings:
17th Oct 2021, Culturala journal launch at the Steamship, London
5th Oct 2021, Kemi's House presents '3 films by Niki Kohandel' at SOAS University, London
SELECTED GROUP SHOWS
Current:
Slade 150 Past, Present, Future, Octagon Gallery, UCL
Losing Track, an exhibition in response to HS2 by
irreplaceable world
2022
May:
'Running Late', Changing Rooms Gallery, London. Slade BA3 Group show, curated by Ella Schlesinger
2021
Nov:
'Stealing Vegetables' curated by Cherry Song, Hal H. Lewis & Qiu Janye
Aug:
Noorderlicht Photo, Groeningen,
'The Makeable Mind: Student Open Call'.
Jul:
The Chemistry of Feeling, Community exhibition at Gulf Photo Plus, Dubaï, UAE.
May:
POSTED, era journal postcard exhibition
Apr:
contributor to
form IV/Thing 18
'From the drained pool'
2020
Sept:
Mommy's Rug
video installation screening at 'Juice', a group exhibition curated by Cherry Song, Shenzhen, China.
Feb:
I am that flower
(2019) screening at Platform 1, Bloomsbury Theatre, London, UK.
2019
Dec:
Spaceship. Dungeon. Zoo.
A group exhibition at Alvaro Barrington's studio, London.
May:
CSM Foundation Show, Lethaby Gallery, London.
CSM x LUX Moving Image, London
Waterlow Art Park II, London. East Meets West,
Platform 272 Gallery, London, UK.
PRESS
2022
passerby magazine, camera roll with Niki Kohandel
2021
In conversation,
An evening with Habibi Collective,
MOMA Virtual Cinema
UCL News, 7 questions with Niki Kohandel
2020
era journal, UCL Arts & Culture Interview: Niki Kohandel
EDUCATION
2019 - 2023 : BA Slade School of Fine Art, UCL
2018 - 2019 : Foundation Diploma in Art & Design, Central Saint-Martins, UAL

AWARDS

2021
Sue Jamieson Memorial Award, Slade, UCL
2022
Herbert Seaborn Award, Slade, UCL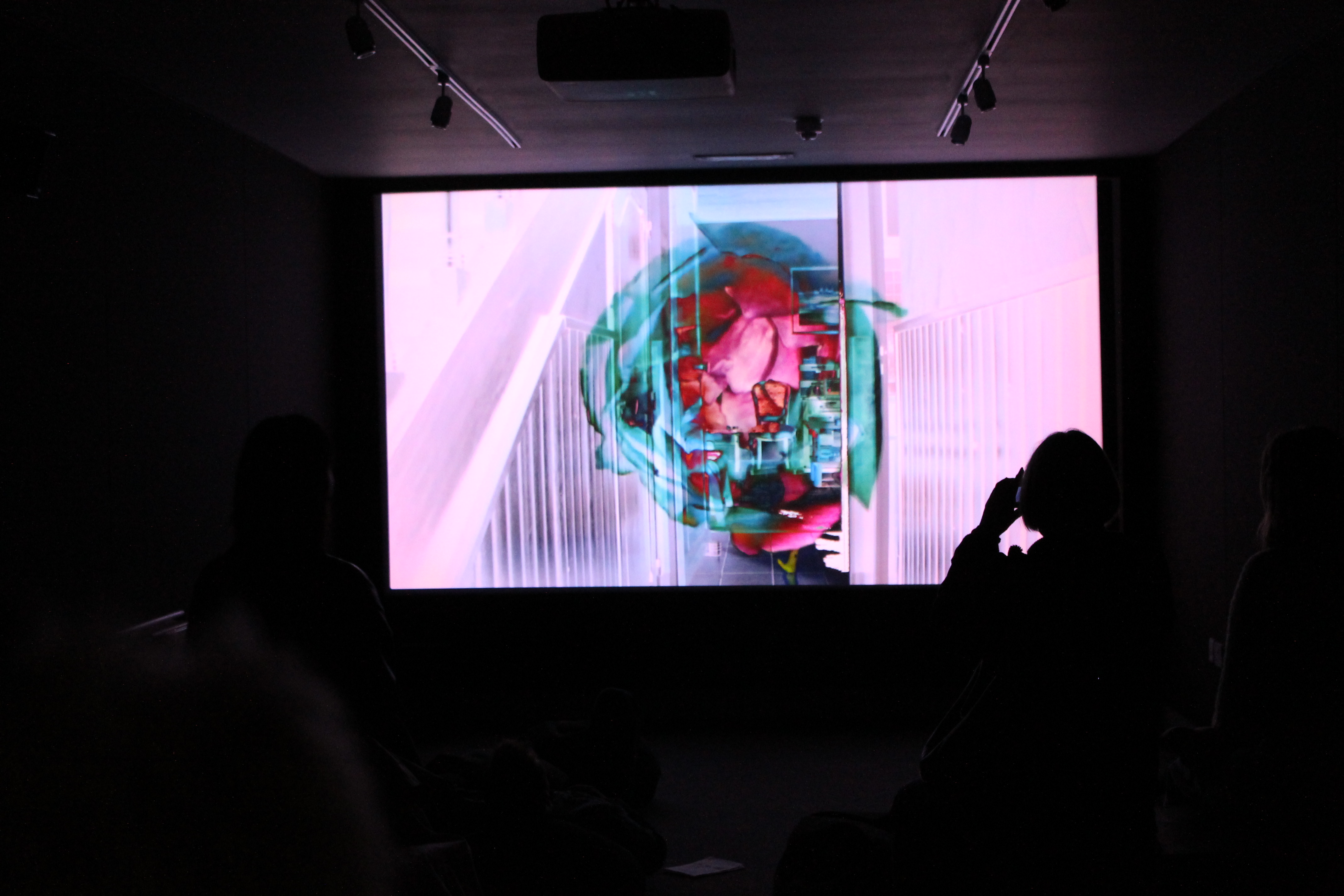 1. Chemistry of Feeling, Installation shot, Courtesy of Raheed Allaf
2. Open Closed, 2019, (1'28) at LUX Moving Image
3. Blossom, 2019, digital print on tyvek behind aviary grid, Waterlow Park